Off-Track Activities
PARADE
An essential pre-race ritual, the parade to Spa city centre allows the public to see the stars and their cars in person. It is open to attend free of charge and features every entrant contesting the twice-around-the-clock contest, as well as some noteworthy additions from the support package.

FAN VILLAGE
Located at the bottom of Raidillon, the CrowdStrike 24 Hours of Spa Fan Village includes something to suit every taste. Merchandising stalls, food and drink stands and much more make this an ideal stop-off for the whole family.

SATURDAY NIGHT CONCERT
The annual Saturday night concert sees big names from the European music scene take the party into the small hours. Beginning at 20.00, it culminates with a headline performance by Martin Solveig at 23:00 and continues until 02:00 on Sunday. Entrance is included in the price of a weekend general admission ticket.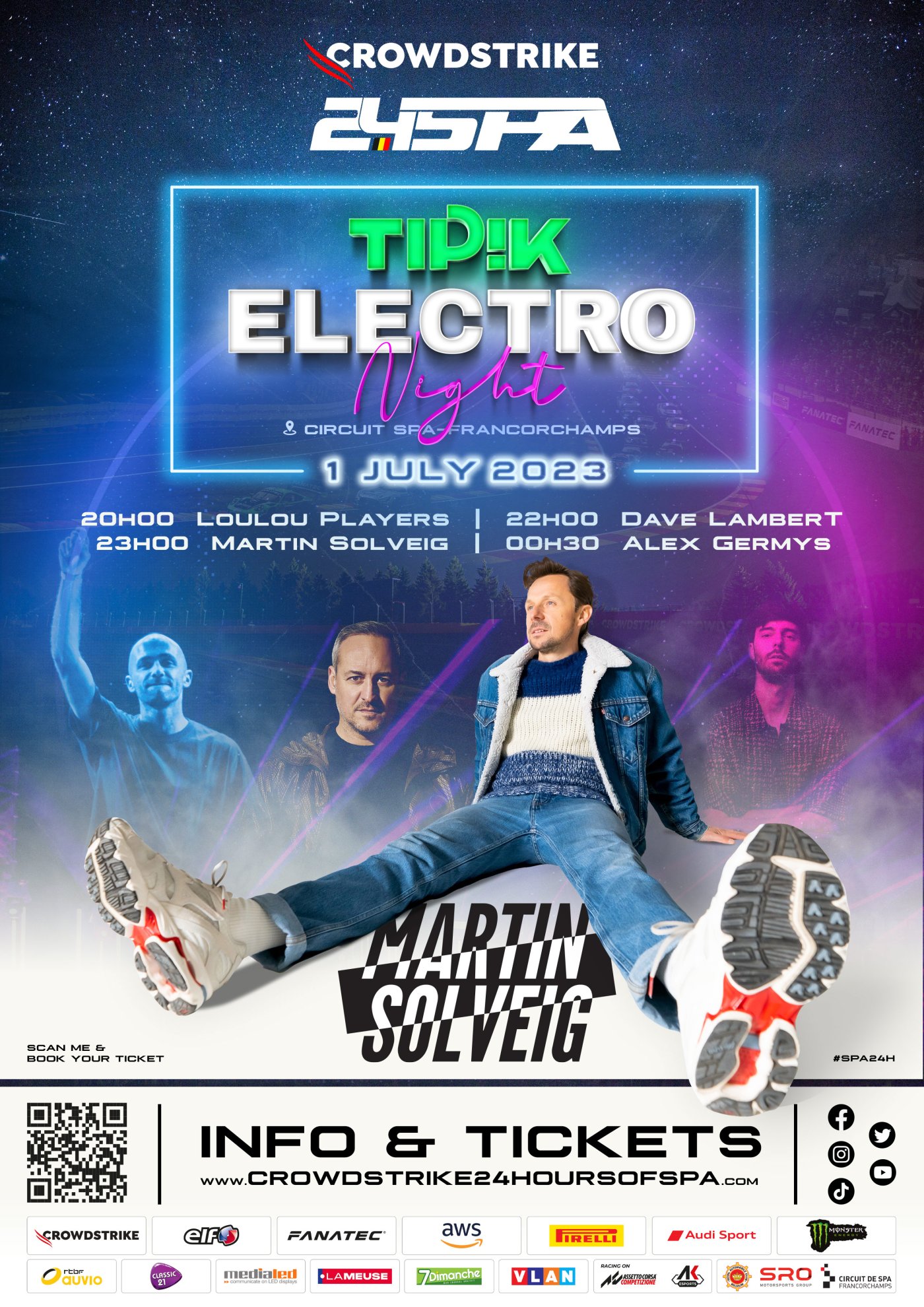 MONSTER VILLAGE
Situated within the main Fan Village, the Monster Village will provide plenty more off-track entertainment courtesy of the global energy drink manufacturer. Attractions range from race simulators to a barber stand, as well as a live demonstration by trials bike legend Fred Crosset and music from official Monster DJ Ma1a.

PADDOCK
FANATEC ARENA
The third round of the Fanatec Esports GT Pro Series takes place on-site in the Fanatec Arena and with more than 20 state-of-the-art simulators this is a must-see for every gaming aficionado. A new addition for 2023 will see the SRO Esports Sim Pro Series Powered by RAFA Racing Club run its own 60-minute Assetto Corsa Competizione race on Saturday.

CASA PIRELLI
Located in the heart of the paddock, Casa Pirelli offers a range of activities linked to the famous Italian tyre manufacturer. Step inside and discover all kinds of activities, from reflex games and driving simulators to the history of the brand.

NIGHT PIT WALK
Fans will have the opportunity to visit the pit lane after dark on Friday evening. Once Super Pole is complete, public will be able to admire the cars in their garages and watch as the teams undertake pit stop practice ahead of Saturday's main event.

SUPERCARS
As ever, automotive manufacturers will display high-end cars and special editions during the build-up to the 24 Hours. This year's line-up includes the Mercedes-AMG Project ONE, Maserati MC20 GT2, CrowdStrike F1 Safety Car, and both the GT3 and GT4 versions of the new Ford Mustang.
MAP