With the GT3 era in full flight, the 2017 TotalEnergies 24 Hours of Spa set a new standard for competition in the Ardennes.
This thrilling and highly unpredictable edition saw the #25 Saintéloc Racing Audi of Haase/Winkelhock/Gounon edge the #8 M-Sport Bentley by a mere 11 seconds. After qualifying 19th and struggling in the early stages, the French squad found its rhythm and emerged as a contender by Sunday afternoon.
The win was particularly remarkable for 22-year-old Jules Gounon, whose professional career had looked to be over 18 months earlier. Now, standing on the top step of the podium at the biggest event in GT racing, his future looked bright.
There was another 22-year-old making his name in the 2017 race. Single-seater graduate Raffaele Marciello attracted plenty of attention at the wheel of the #90 AKKA ASP Mercedes-AMG, which finished third after an action-packed run.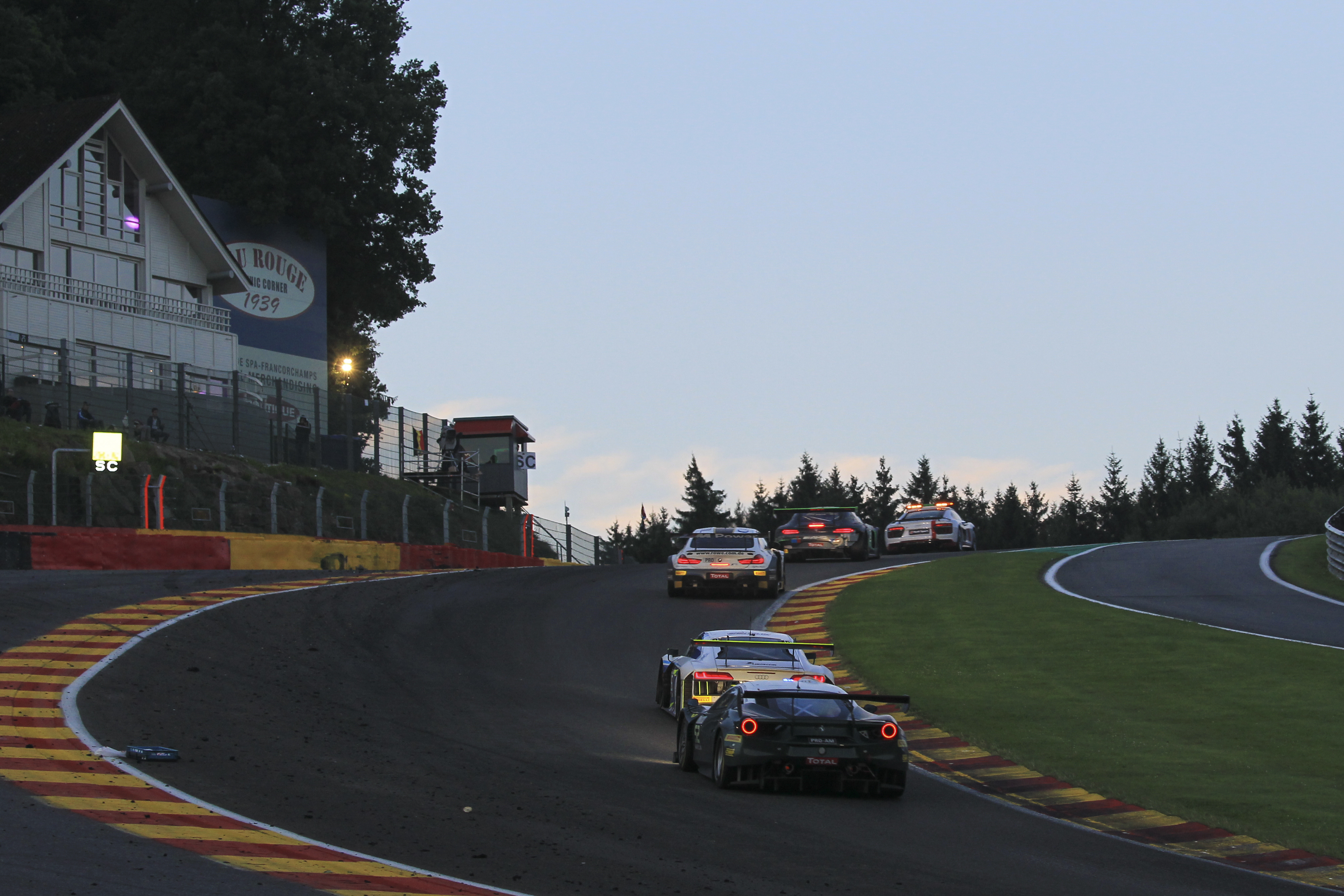 For the #8 M-Sport Bentley crew, taking runner-up was a bittersweet result. It was the second straight year in which the British team had challenged for the win, but again they would leave the Ardennes without the big prize.
There was small consolation in being the first (and to date only) non-German brand to finish on the podium during the GT3 era. The race also set a new record of six cars on the lead lap, with four different brands represented among them.
Black Falcon took Pro-Am honours with its Mercedes-AMG, while Ferrari squad Kessel Racing made it back-to-back Am Cup victories. With a huge 36-car field of Pro cars, the competition had reached a new level; indeed 2017 represented the first time that the Pro-Am winner did not finish in the overall top-10.

NUMBERS
• Laps: 546
• Starters: 63
• Winning margin: 11.862 seconds
• Pole: 2m17.390s (#55 Ferrari 488 GT3)
• Fastest lap: 2m19.756s (#25 Audi R8 LMS GT3)
STATS
• Six cars finish on the lead lap, a GT record that stands until 2020
• Total of 546 laps completed, second-highest of the GT3 era
• Best overall result for Bentley (2nd overall)
• First Appearance: Raffaele Marciello, Walkenhorst Motorsport, Andrea Caldarelli
• Last Appearance: Guy Smith, Abt Sportsline, Andre Lotterer