• Outstanding entry list features eight world-renowned automotive brands
• Unmissable sporting contest in store with competitive grids in all five classes
• Teams from across the globe take up the challenge of 29 June – 2 July event
The CrowdStrike 24 Hours of Spa will launch its new era in style this summer with an astonishing 72-car field set to contest the event's 2023 edition (29 June – 2 July).
The entry list comprises machinery from eight world-renowned automotive brands and brings together elite teams from across the globe. They will compete in five fiercely competitive classes as the twice-around-the-clock race marks its 75th running and begins a new partnership with title sponsor CrowdStrike.
This promises to be a truly global sporting contest, with teams travelling from as far afield as China, Australia, and the United States to chase victory in the Ardennes classic. The 2023 grid matches the record entry list that was announced ahead of the 2019 edition, though on that occasion the total number of GT3 cars at the start was 71. As such, a new benchmark could be established on the afternoon of 1 July.
The race will be the culmination of almost a week of festivities at Spa-Francorchamps. On-track, the build-up to the main event will feature eight support races across four high-level series, as well as spectacular GT1 machinery and virtual motorsport in the paddock. There will be a wealth of off-track entertainment, too, highlighted by Wednesday's parade to Spa city centre and the Saturday night music concert.
The paddock will be a hive of activity from Thursday onwards, with exclusive presentations from leading brands, the Pirelli Experience, the Fanatec Esports arena among the activities on offer. Pit walks and demonstrations will take place during the evening hours, while attendees can find something for all ages at the CrowdStrike 24 Hours of Spa Fan Zone. Indeed, this is the hot ticket event for the start of summer 2023.
From a sporting perspective it represents a return to full strength for the world's most competitive GT race, combining the 56-car full-season Fanatec GT Europe Endurance Cup grid with several Intercontinental GT Challenge Powered by Pirelli programmes and one-off entries. These are the brands that will chase victory at the 2023 CrowdStrike 24 Hours of Spa and the teams set to represent them.

ASTON MARTIN (VANTAGE AMR GT3)
• Event newcomer Bullitt Racing ensures Aston Martin presence on 2023 grid
• 1 Silver cup entry
Aston Martin enjoys a long and storied association with Spa-Francorchamps, highlighted by its overall victory at the 24 Hours in 1948. A stalwart of the event's GT era, the brand will take its place on the 2023 grid thanks to the Málaga-based Bullitt Racing squad, which is set to make its CrowdStrike 24 Hours of Spa debut with a Silver Cup entry. The team will seek to earn Aston its second class win since GT3 rules were introduced in 2011 following Oman Racing by TF Sport's memorable Pro-Am triumph in 2019.

AUDI (R8 LMS GT3 EVO II)
• German heavyweight chasing return to the top after tough 2022
• 12 entries: 3 Pro | 2 Gold | 3 Silver | 3 Bronze | 1 Pro-Am
Audi dominated the early years of the GT3 era but is without an outright victory since 2017. Its bid to return to the top is led by its most recent winner, Saintéloc Junior Team, while Tresor Orange1 and Comtoyou Racing add further Pro entries. Event newcomer Comtoyou has two more cars on the entry list, one in the Gold Cup and another in Pro-Am, while Boutsen VDS will ramp up local interest even further with cars in the Gold and Silver categories. Tresor Attempto Racing splits its class contenders between Gold and Bronze, while the Saintéloc squad has an additional Silver effort. The Audi contingent is completed by Bronze Cup hopefuls CSA Racing and Chinese outfit Uno Racing Team, both of which are set for their CrowdStrike 24 Hours of Spa debuts.

BMW (M4 GT3)
• Spa's most successful brand represented by trio of race-winning outfits
• 8 entries: 4 Pro | 1 Gold | 1 Silver | 2 Bronze
BMW has been hunting for its 25th overall victory since 2018 and there is a feeling in the paddock that this might be the year. Team WRT represents a major addition to the brand's line-up, the two-time overall winner bringing with it a pair of Pro cars and a roster of drivers that includes Maxime Martin, Dries Vanthoor and Valentino Rossi. There are two more Pro crews courtesy of Rowe Racing, itself a double winner in the Ardennes and undoubtedly a serious contender in 2023. Walkenhorst Motorsport is the most recent BMW squad to conquer the race and will field cars in the Silver and Bronze Cup classes, while there are additional cars from Team WRT in the Gold and Bronze categories.

FERRARI (296 GT3 / 488 GT3)
• Italian marque hoping to continue fine form with new machinery
• 5 entries: 2 Pro | 2 Bronze | 1 Pro-Am
Ferrari conquered the 24 Hours in 2021 and bagged a spot on the overall podium last year, while its success in the Pro-Am class is beyond compare. This year it will deploy the new 296 GT3, which the Maranello brand hopes can continue the success of its 488 model. AF Corse will lead the charge with a pair of Pro crews, both featuring a full complement of Ferrari Competizioni drivers. The Italian squad will also enter two cars in the Bronze Cup, with its #52 machine set to include multiple class winners Louis Machiels and Andrea Bertolini. Samantha Tan returns to the event as part of the new ST Racing with Rinaldi alliance, which will contend for Pro-Am honours using the five-time class-winning 488 GT3.

LAMBORGHINI (HURACÁN GT3 EVO2)
• Lamborghini targeting maiden Spa win with new Huracán EVO2
• 10 entries: 2 Pro | 1 Gold | 3 Silver | 2 Bronze | 2 Pro-Am
Could this be the year for Lamborghini? With a new car, the addition of 2021 winner Iron Lynx and the return of K-PAX Racing, there is reason to believe that the Italian marque can finally conquer the Ardennes classic. Iron Lynx adds a further Gold Cup entry, while the Silver Cup features two cars from the accomplished Grasser Racing outfit and another from VSR. The all-female Iron Dames squad will look to add Bronze Cup glory to the class win they secured in 2022 and are joined by AGS Events, while multiple class winner Barwell Motorsport will enter Pro-Am alongside Leipert Motorsport. With representation in all five classes, 2023 is shaping up to be a big year for Lamborghini.

MCLAREN (720S GT3 EVO)
• Pro effort complemented by quintet of Bronze Cup contenders
• 6 entries: 1 Pro | 1 Gold | 4 Bronze
McLaren has a new car this year, with the refreshed 720S Evo set to make its Fanatec GT Europe debut at Monza. Its hopes of overall victory at the 24 Hours rest with Garage 59, which returns to the Pro ranks with a crew of young talents, while Optimum Motorsport adds a Gold Cup effort. But the British brand's real strength lies in the Bronze Cup, where four cars are set to contend for class victory. Garage 59 will field its own entry and join forces with Sky Tempesta Racing to add the #93 McLaren, while Inception Racing returns for another attempt in the Ardennes. Event newcomer 7TSIX completes the McLaren roster, which has the numbers to mount a serious challenge for Bronze Cup glory.

MERCEDES-AMG (AMG GT3)
• Increased firepower marks 2022 overall winner out as brand to beat
• 16 entries: 4 Pro | 2 Gold | 2 Silver | 5 Bronze | 2 Pro-Am | 1 TBD
Mercedes-AMG will be the best represented brand at this year's CrowdStrike 24 Hours of Spa thanks to an extraordinary 16-car entry. Defending overall winner Akkodis ASP will have two Pro cars on the grid, while there are additional top-tier efforts from Mercedes-AMG Team GruppeM and Mercedes-AMG Team AlManar. Winward Racing will field a pair of Gold Cup crews, while Madpanda Motorsport will look to earn a second Silver Cup win and GetSpeed has confirmed one car each in the Silver and Bronze classes. There are further Bronze Cup entries from SunEnergy1 Racing, Haupt Racing Team, Akkodis ASP and Saudi female racer Reema Juffali's Theeba Motorsport outfit, as well as Pro-Am programmes for CrowdStrike Racing by Riley and Haupt Racing Team. With the latter squad adding a third AMG GT3 in a to-be-confirmed class, Mercedes-AMG will tackle this year's race with all guns blazing.

PORSCHE (911 GT3 R)
• Significant entry for eight-time overall winner Porsche
• 14 entries: 3 Pro | 1 Silver | 6 Bronze | 4 Pro-Am
Porsche's new 911 GT3 R will be out in force at this year's CrowdStrike 24 Hours of Spa. There are full-season Pro efforts from Dinamic GT Huber Racing and Rutronik Racing, while Manthey EMA will add another potential winner to the grid. Dinamic GT Huber Racing has two more cars, one going for Silver Cup glory and another contending for Bronze honours. There are five more Bronze Cup entries, which come from CLRT, Herberth Motorsport, Huber Motorsport, Team Parker Racing and Pure Rxcing. Porsche also has four Pro-Am crews thanks to Car Collection Motorsport, GMG Racing, Grove Racing and Modena Motorsports. As such, the Stuttgart marque will be the best-represented brand in both the Bronze and Pro-Am categories.
–––
Stéphane Ratel, SRO Motorsports Group founder & CEO: "It is with great pride and humility that we present this exceptional entry list for the 75th edition of the CrowdStrike 24 Hours of Spa. A 72-car field featuring eight brands reflects not only the legendary status of the event but the hard work that has been invested in its ongoing success. The appetite for the new Bronze Cup class has surpassed expectations, while all five categories look set to produce a very high level of competition. It is also gratifying to see so many teams travelling from around the world. The CrowdStrike 24 Hours of Spa is a race of international importance, and this is clearly demonstrated by the diversity of our entry list. We look forward to welcoming the teams and of course a full house of fans for a spectacular show this summer."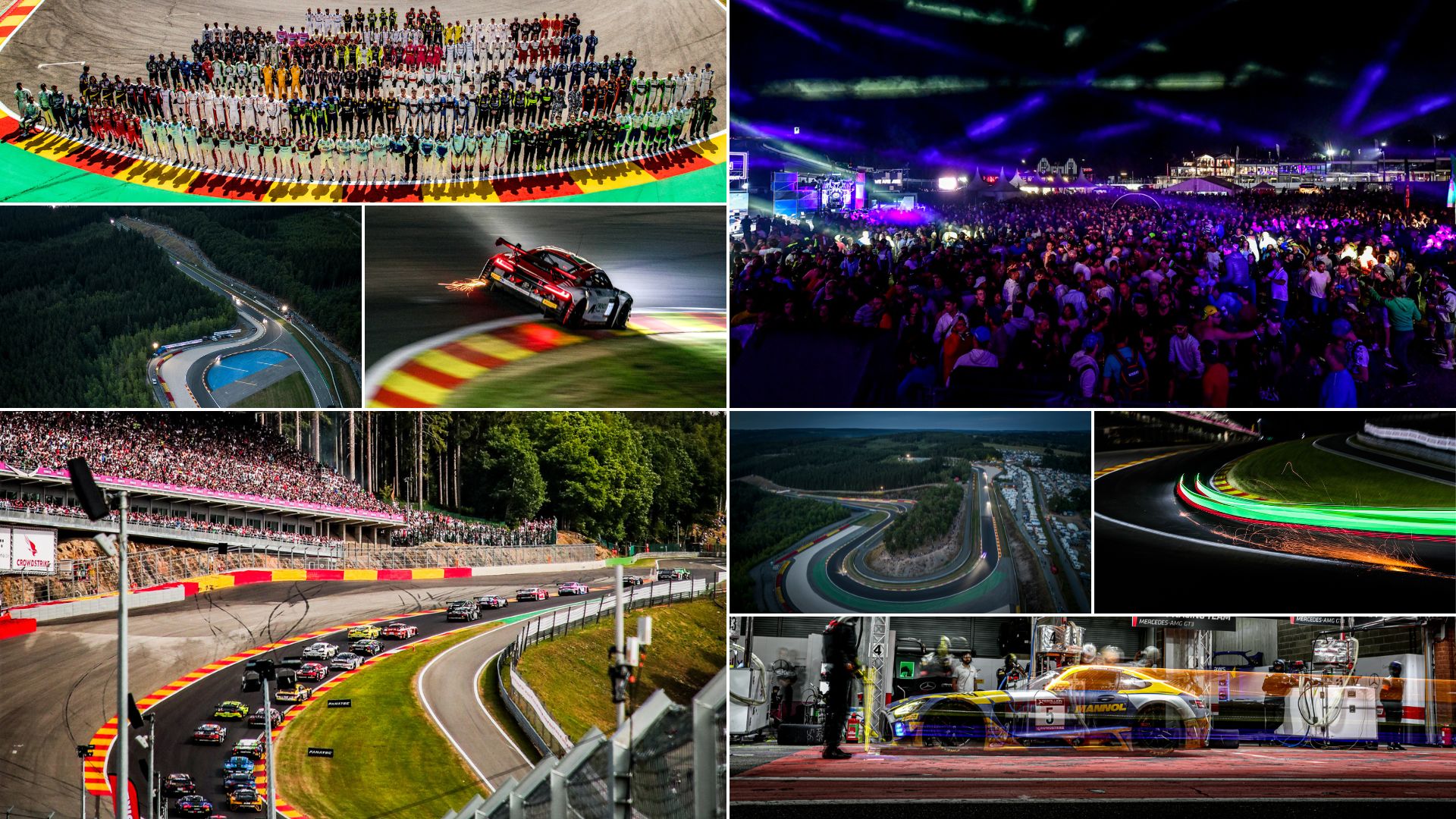 2023 CrowdStrike 24 Hours of Spa entry list - FACTS & FIGURES
• A 72-car grid matches the number that participated in 2019. However, this comprised 71 GT3 cars and an invitational Porsche Cup entry that only ran during selected portions of the race. As such, a new record could be set on 1 July.
• The new Bronze Cup class has proven to be a huge hit, attracting an unmatched field of 24 cars. There are 19 Pro cars on the entry list, 11 Silver, 10 Pro-Am and 7 Gold. One car is yet to finalise its class.
• Mercedes-AMG has the biggest entry with 16 cars, followed by Porsche (14) and Audi (12). Audi, Lamborghini and Mercedes-AMG are each represented in all five classes.
• BMW and Mercedes-AMG have the most Pro cars with four each. Audi and Mercedes-AMG lead the Gold Cup with two cars each, while Audi and Lamborghini top the Silver Cup with three each. Porsche stands alone in both the Bronze Cup and Pro-Am with six and four cars respectively.
• The entry list features six previous overall winners: Akkodis ASP (2022), Iron Lynx (2021), Rowe Racing (2016 & 2020), Walkenhorst Motorsport (2018), Saintéloc Junior Team (2017) and Team WRT (2011 & 2014). Marc VDS, which won in 2015, is also present as part of a new alliance with Boutsen Racing.
• The teams entered for the 2023 edition represent 14 nations. Among them, 10 squads are set to make their maiden appearance at the CrowdStrike 24 Hours of Spa
____
➡️ 2023 CrowdStrike 24 Hours of Spa ENTRY LIST : HERE
____
ABOUT CrowdStrike 24 Hours of Spa
First staged in 1924 and running continuously since 1964, the CrowdStrike 24 Hours of Spa combines a unique sense of history with the unparalleled sporting challenge presented by modern-day Spa-Francorchamps. Since adopting GT rules in 2001 the race has firmly established itself as a key fixture on the international motorsport calendar.
Today, it represents the marquee event for two elite categories: Fanatec GT World Challenge Europe Powered by AWS and the Intercontinental GT Challenge Powered by Pirelli. The race marks its 75th edition in 2023, with another ultra-competitive grid expected to test themselves on 29 June – 2 July.
A range of ticket options are available to purchase for this year's CrowdStrike 24 Hours of Spa. These include access for Thursday and Friday only, which will allow fans to enjoy extensive practice and qualifying running, as well as support race action. A Sunday ticket will provide access around the circuit and to grandstands, plus paddock access, for the second half of the contest.
For those wishing to experience the CrowdStrike 24 Hours of Spa in full, a General Entrance ticket covers Thursday through Sunday and allows access around the circuit and to grandstands, the Fan Village and the Saturday night music concert. For an even more immersive experience, fans can choose a General Entrance + Paddock ticket, which adds access to the bustling CrowdStrike 24 Hours of Spa paddock.
TICKETS: click here

__